WELCOME TO THREE P's FRAMING
---
Our enviroment play such a vital roll in providing us with a special place to surround ourselves with what's important to us like memorable gifts, precious possessions and above all family. An image from a dream holiday or a beautiful family portarait is such a powerful way to provoke emotion and remind us of what's important. Take a moment and look around your home or workplace and think about the pictures on the wall. Are they meaningful to you? Do they inspire you?
Happy Holidays!!!

We are open again! see contact us for workshop hours.

Our next newsletter is due out soon! Here you will find inspiration, tips and trends on all things framing and I look at the importance of a visual detox in this issue. SIGN UP below to receive our last newsletter, a guide to using a framer and a $10 voucher to get you started.



Our awesome little workshop which doubles as a showroom is a great space where you can choose a picture frame that reflects you.
Do you have something unique to frame? A family momento or perhaps a odd size artwork from a special holiday. We can help you frame that piece to hang on your wall to inspire you every day.
We frame Original artworks on paper, Limited edition prints, Paintings on canvas, Canvas stretching, Photographs, Documents & Certificates, Needleworks, Memorabilia, 3D object/box framing, Prints & Posters, Medals & badges and wild boar skulls... yes we have framed one!

What's new in the workshop......
Just like Santa's workshop our little framing workshop was flat out in December!
We framed so many precious pieces like retro football jerseys for 60th birthdays, Boxing gloves signed by Mike Tyson, Wedding portraits, Paintings, prints, you name it. All completed before Christams.
2017 was a great year for our business. We gained wonderful new clients and loved continuing to work with those we have served before. Thank you to all for supporting our local business!
SCARE cancer away campaign
As we know Kids with Cancer Foundation supports families of pre-teen children (0-12) in financial difficulties due to their child being treated for cancer, along with doctors, nurses, social workers and support groups involved in caring for these children.
To date, the Kids with Cancer Foundation Australia has proudly donated $18 million to hospitals and families. What an amazing effort!
A local fundraising event was held on 27th October 2017.

How to hang your frames
I often have customers ask for advice about hanging their pictures. I like to help where I can so I found a great clip which answers all the questions that come my way. If you're unsure how to hand a picture or wall grouping, take a look at this clip.

We are proud to be one of many supporting the WISEBERRY FOUNDATION. A fundraising dinner was held on Friday 25th August 2017.
I was very fortunate to meet Nicole recently. Nicole is 27 yrs old and a quadriplegic. She is also a new mum to her 8 month old baby boy Reagan. This fundraising event was to raise much needed funds for Nicole and others to assist with their ongoing needs and care.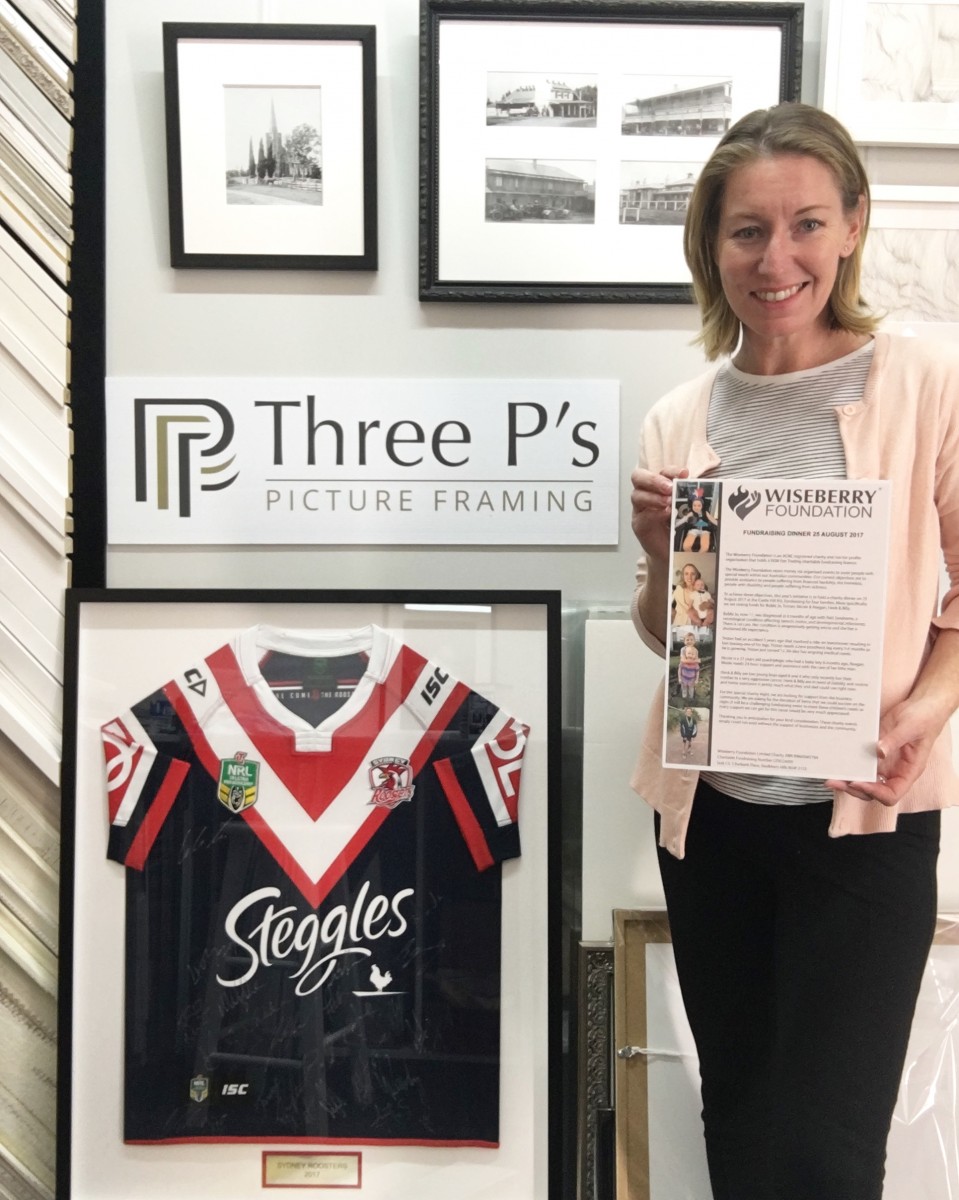 The Wiseberry foundation raises money via organised events to assist people with special needs within our Australian communities. Their current objectives are to provide assistance to people suffering from finacial hardship, the homeless, people with disability and people suffering from sickness.
To read more about Wisberry, go to wiseberryfoundation.org
What a great afternoon we had at the Art & Framing Trade Fair at Royal Randwick on Sunday 13th August 2017.

So pleased to announce Lisa was awarded SECOND PRIZE in the Framing competition. This competition is held every 2 years with entries from all over the country. Those who entered received the same print to frame in the materials of their choice. The judges commented on how beautifully balanced the design was in Lisa's piece. The frame along with a certificate will soon be hanging in the Three P's workshop.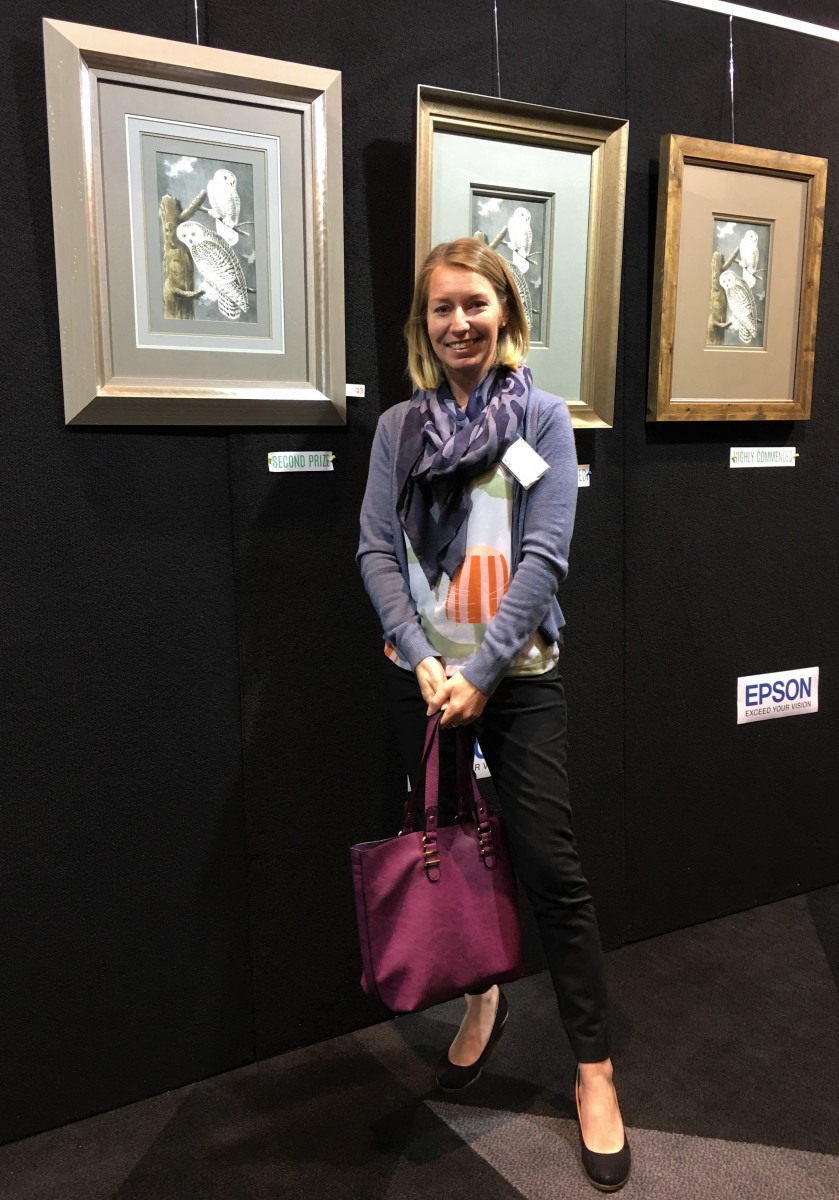 See more on Facebook
Testimonials
Lisa is a friendly and easy going person to deal with. She has a wide range of frames to choose from, and is happy to spend the time needed to select the right one. As a painter who has used many framers, I was happy with the work and the quality of the product.
Anthony Rofe
Wow! What an absolutely amazing job you did with my precious photos. They turned out even better than expected and now they are hanging with pride, right by the front door so that everyone can see them as soon as they walk in. Lisa, thank you for taking such care of the photos that are most dear to my heart.
Tracey Moir
I highly recommend Lisa at Three P's to frame your next work so that the beautiful pieces belonging to you can be enjoyed for many years to come.
Indira Kalindi Narayana
There was no time limit with this lovely lady. Lisa showed me many options, my pros and cons resulting in an absolute masterpiece which is hanging with pride. I thank you Three P's for making a memory look like a true reality.
Carmelina Boncardo la Cioppa
Lisa is simply excellent at what she does! The attention to detail is paramount. We had 4 prints framed by her and we always get asked who did them when people visit. Can not recommend her highly enough!
Jurgita Miller
See more on FACEBOOK and INSTAGRAM
Quick Contact
Let us call you back, fill out the form below and we will be in touch